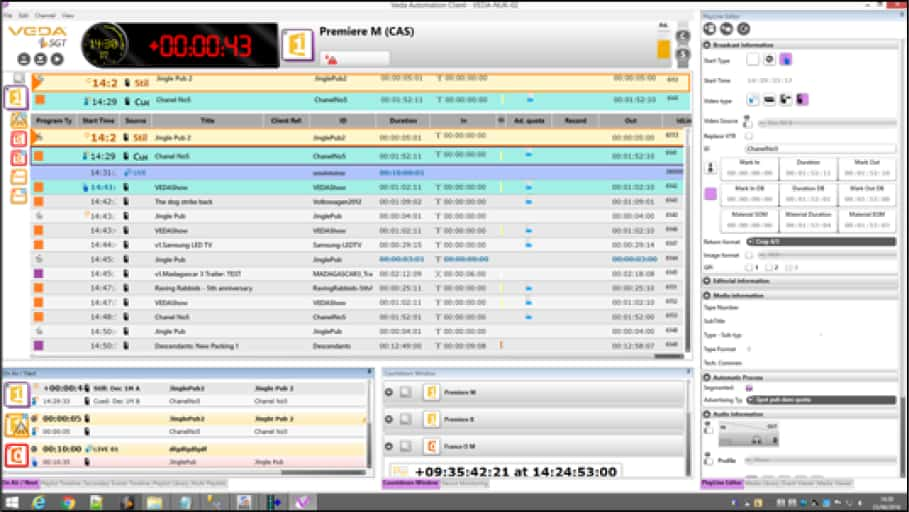 BROADCAST TV PLAYOUT AUTOMATION SOLUTION
VEDA Automation is the broadcast TV playout automation software solution for robust multi-channels playout already used by hundreds of channels in the world.
Based on twenty five years experience, the VEDA Automation platform manages local, thematic and premium channels as well as multi-channel playout centers. Its flat design, innovative, friendly, and fully configurable user interface and proven reliability make VEDA one of the best and most versatile broadcast TV video playout automation solution.
Unique User eXperience
VEDA Automation client is designed for and with customers. It optimizes the operations by monitoring all the necessary information, reducing clicks and popups. It is customizable to monitor only the right information at the right place in mono or dual screen configuration.
A Media Library to see all contents, a search tool with filters to find quickly content, a time line of primary and secondary events, countdown windows to monitor in one view all the next important event in all playlists managed by VEDA client are some examples of what VEDA brings to simplify playout operations.
Unique User eXperience

Awarded by operators worldwide

Robust & powerful

A proven eficiency from ingest to playout

Scalable & open

Any devices, any services